ISSA and Informa Markets announced that they would continue to deepen the strategic partnership in China and the global cleaning industry, and decided to launch the ISSA Pavilion at informa's Expo Clean for Commercial Properties and Hotels(CCE). From March 30 to April 2, 2021, more than 35,000 industry leaders and over 600 enterprises from around the world will gather in Shanghai New International Expo Center to participate in the four-day CCE.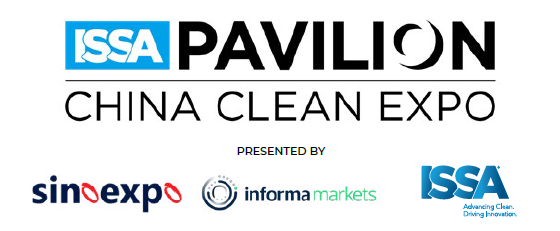 The ISSA area at CCE is a training and networking center that brings together high-quality exhibitors to showcase innovative solutions, as well as a salon area for exhibitors and speakers to participate in forums, presentations and panel discussions.
From March 29 to April 1, 2022, ISSA Pavilion will once again appear at CCE, continuing to build an international exchange and cooperation platform for the cleaning industry.
Exclusive Promotion Rights of ISSA Pavilion Exhibitors Learn more information about ISSA, please contact us.
Ms. Emily Chen
Tel:86-021 3339 2079
E-mail:Emily.Chen@imsinoexpo.com
ISSA and INFORMA MARKETS Solidify Partnership in CHINA
In April 2021,ISSA (International Sanitary Supply Association) has announced a partnership with Sinoexpo Informa Markets,making it the representative of China to manage the local business in China. This strategic upgrade will provide ISSA China members with more support from local staff and bring more membership value through Sinoexpo Informa Markets in professional knowledge and network in the cleaning industry.  In this year's exhibition, ISSA Pavilion brand area will be presented in the form of brand display & forum sharing. Nearly 20 outstanding cleaning companies and brands from home and abroad will be invited to enter the Pavilion to showcase cutting-edge technologies and products in the industry. At the same time, ISSA will plan and organize a high-end industry forum to share advanced ideas and promote the development and progress of the industry.
ISSA, International Sanitary Supply Association, is the world's famous cleaning industry association with over 10,500 members, including distributors, manufacturers, manufacturer representatives, building service contractors, in-house service providers, residential cleaning and related service members. ISSA helps members make valuable connections through cleaning fairs around the world.
ISSA also helps improve members' professional standards and business success through its global website, www.issa.com, as well as providing business tools, education products, industry standards, and publications specifically targeted at the cleaning industry. Through these initiatives, ISSA helps members demonstrate the true value of cleanliness to their customers, partners, and employees. The association is headquartered in Northbrook, Illinois, USA and has regional offices in Mainz, Germany; Whitby, Canada; Parramata, Australia; Seoul, Korea; and Shanghai, China.
ISSA holds cleaning exhibitions in the United States, Australia, Canada, Russia, Italy and other places around the world. Annual keynote speeches, education, training and various activities are the best platforms for you to enhance your brand awareness and expand your business in the international market.